Ordinary Resurrections Reflection
Thursday, April 23, 2009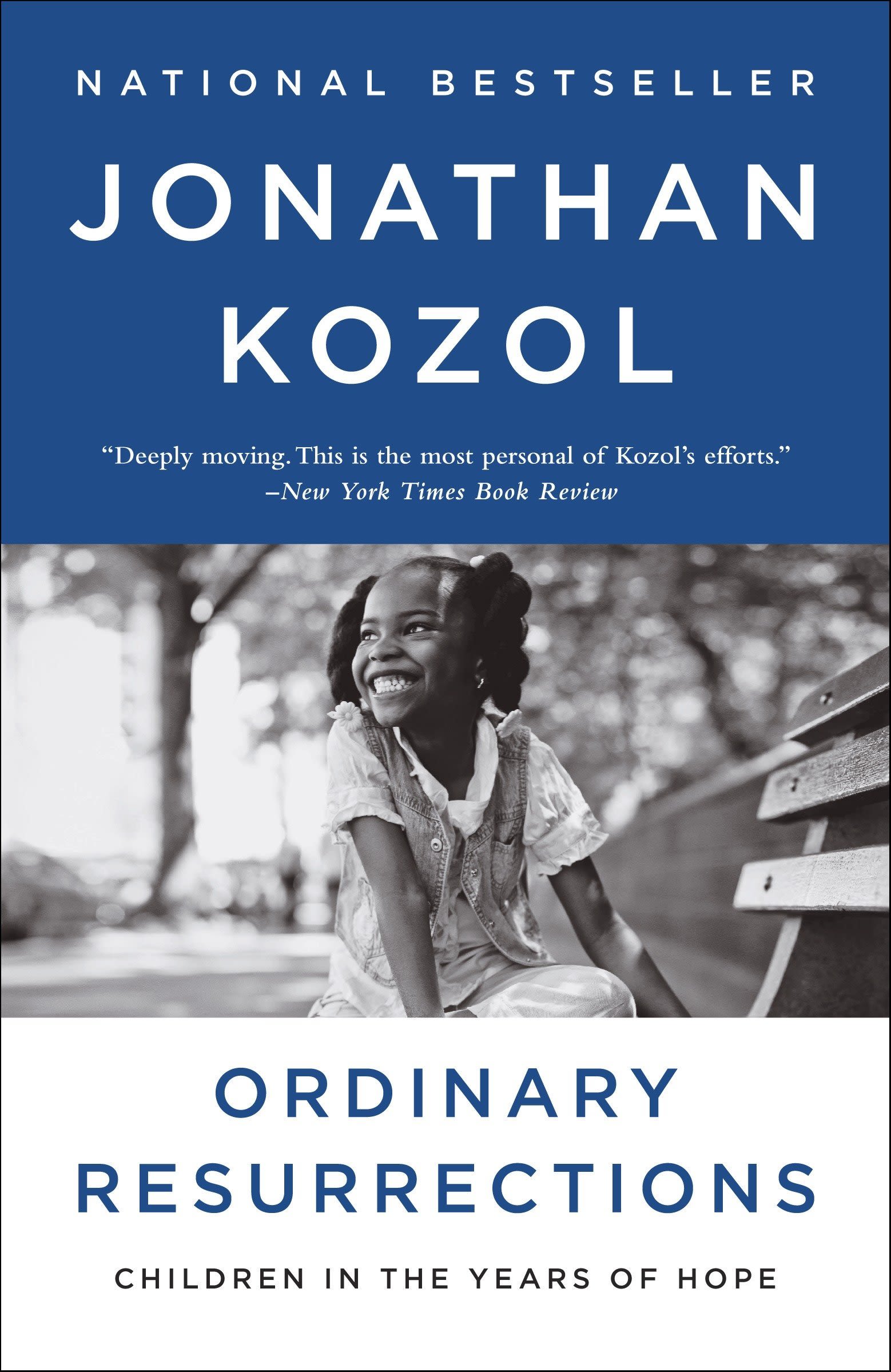 I just finished reading Ordinary Resurrections: Children in the Years of Hope by Jonathan Kozol. The children of South Bronx did not have the same opportunities as I did as a child. The norms in their town consist of imprisoned fathers, poor environmental conditions resulting in high asthma, poverty, relatives with AIDS, gangs, eviction, and poor health care. Educational resources are limited because of race and class origin. This, in turn, limits the children's futures. Expectations of the children are low, as careers as a technician or an aide are encouraged rather than persuading the children to obtain a college degree and pursue their dreams. The social and economic racism that is present in the community hinders the children.
Money is scarce in these children's communities, leaving them at a significant disadvantage. A reflection of this is how and where they are taught. They don't receive the quality of education that I received or they deserve. Also, money is unequally spent among schools. A child in Great Neck receives over triple in school spending than that of a child in South Bronx. Money spent on a children's education per capita is significantly lower in South Bronx than the rest of the city. In fact, it is actually less than the amount spent to incarcerate men in prisons. Instead of money being spent on the development of a child, it is being spent to contain prisoners in a cell. Money has been an active contributor to the quality of my education (college alone is around $40,000 per year). Therefore, money can be directly related to the quality of education a person receives. Sure, money is not the only answer to providing these children with equal opportunity, but it is a start.
It is ironic that poor education exists in such a rich country. I feel sorry for the children, even though they seem kind, smart, capable, and happy. They are unaware of their surroundings, which makes their assumption that they are okay priceless. Their world is not surrounded by trees or grass, but rather buildings and violence. Hope carries these children as they make the best of their situations.
While growing up, my parents always wanted the best. Their dreams for me consisted of becoming an educated scholar and excelling in a highly respected industry. In addition, I had aspirations of becoming a star basketball player. These goals and dreams are far superior to that of the children in the book. Expectations of these kids consist of goals as future entry-level workers. It is the norm in South Bronx to barely get by rather than excel in life. Expectations are so low that if a child becomes a medical aide he could be viewed as very successful. Where my life has been full of ripe opportunity, the children have South Bronx have not been so lucky. When a rare window of opportunity opens, the children must take full advantage, or else that window will be closed forever.
While the kids who attend Public School 30 have the benefit of passionate and caring adults, they are still victim to the horrors that the inner-city children experience. For the most part, medical insurance, dental care, and optometrist care are absent from the lives of these kids. These necessities and benefits I have experienced as a child are a luxury compared to what the children in South Bronx enjoy.
I admire the characteristics these children possess; love, faith, ingenuity, resiliency, and courage. These characteristics help the children at Mott Haven rise above their fears. How they manage to overcome hardships is encouraging and inspiring. However, the reason behind the children's constant struggle is why something needs to be done about the opportunities they receive and the futures they hold. They deserve an equal chance to make something of themselves.
Segregation is a big problem in today's society. There is an increasing gap between different types of schools (home, public, private, etc.). Education inequalities are not being addressed; I believe each child should have an equal opportunity to achieve their goals, and society is in part responsible for creating circumstances where achieving dreams is possible. A positive environment is essential for both students and teachers to ensure a dignified experience.
Despite being neglected by an unfair system, the children remain resilient. However, this may diminish as the system continues to oppress them. However, some students do manage to succeed in spite of an unfair system. I can't imagine what some of the children of South Bronx could accomplish if they were to grow up in the presence of individuals that care, such as the teachers currently present in their lives.
Also, it is hard to expect children to learn effectively in a poverty stricken, malnutrition, toxic polluted, disease inhabited environment. They are expected to survive and thrive in an unfair and unclean place. These problems are not only problems of the children, but society as a whole.
The predicament the children of South Bronx are in is clear. No matter how hard they work, no matter how well they do, admission into a cleaner; more stable, healthier school that prepares students for college is unlikely. It is a shame that these children can't be given a fighting chance.